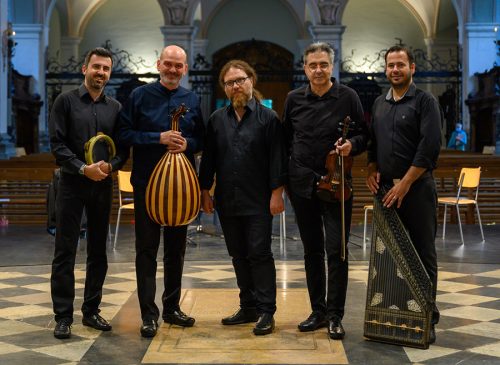 Academie Charles Cros Prize 2015
Academie Charles Cros Prize 2014
Radio France Prize 2008
Official nomination for UNESCO Sharjah Prize 2006
En Chordais is not a group of museum conservationists preciously handling music tracts from the past, but are investigators wishing to use history as a way to inspire present practice and to further an understanding of themselves.
En Chordais is one of the most internationally acclaimed and exceptional music ensembles specializing in the traditions of the Mediterranean music. Its presence on stage is always accompanied with a wide and unique repertoire mixed with compositions both from the past and the contemporary time maintaining the originality and the timeless of the old as well as the intimacy of the today's trends. With this extensive repertoire and a playful, lively presence on stage, the ensemble has toured throughout the world, receiving enthusiastic critical acclaim.
The music ensemble is connected with the homonymous musical organization, which along with the establishment of the traditional and Byzantine music school and its actions in the field of publishing books and recording CDs, has composed a broad perspective in the Greek and international music scene. Throughout its history, En Chordais has devoted special attention and energy to the promotion of intercultural dialogue, identifying and promoting the many levels at which the musical heritages of the Mediterranean and beyond are intimately connected and interdependent.
The repertoire of the ensemble celebrates the Byzantine musical heritage and the Greek folk music, the works of major Mediterranean composers, as well as compositions by its members and a creative continuation of this great heritage. Of particular importance in the repertoire is the application of Kyriakos Kalaitzidis' (En Chordais' artistic director) research findings in manuscript codices from the 15th-19th century, which are preserved in several historical libraries of Europe.
En Chordais, renowned for extensive research on the musical legacy of the East Mediterranean, has entranced audiences by more than 1000 concerts all over the world. The appreciated ensemble has been invited and performed in very special and important concert halls:
Salle Pleyel (Paris), Berlin Philharmonie, Lincoln Center (New York), Maison Symphonic (Montreal), The Grace Rainey Rogers Auditorium of Metropolitan Museum of Art (New York), Bibliotheca Alexandrina, Cornell University (Ithaca), Palais de Bozar (Brussels), Carl-Orff – Saal Gasteig (Munich), Cairo Opera House, Theatre de la Ville (Paris), San Marco (Venice), The International Jerusalem Oud Festival, South Bank (London), City Hall Concert Hall (Hong Kong), Athens Concert Hall, L'Arsenal (Metz), Melbourne Recital Centre, Ten Days on the Island (Tasmania), Stimmen Festival (Germany), Enescu Festival (Bucharest), Sori Festival (South Korea), Shanghai World Music Festival, Cervantino Festival (Mexico), Opera de Lyon, Onassis Cultural Center (Athens), Alte Oper (Frankfurt), Centre des Musiques Arabes et Méditerranéennes (Tunis), Tropenmuseum (Amsterdam), Les Suds à Arles festival, Salle Pierre-Mercure (Montreal), Theater of Ancient Epidaurus, Cemal Resit Rey Concert Hall (Istanbul), Herodis Atticus Odeon (Athens), Malta International Arts Festival, Fès Festival (Morocco), Institut du Monde Arabe (Paris), Benaroya Hall (Seatle), Palais Montcalm (Quebec), Yapi Kredi Arts Festival (Istanbul), Bursa International Festival are just some of them… with important concerts also in Copenhagen, Barcelona, Mallorca, Boston, Cologne, Zurich, Bern, Basel, Belgrade, Plovdiv, Nuremberg, Düsseldorf, Bonn, Luxembourg, Tunis, Amman, Larnaca, Nicosia, Limassol, Aachen, Beirut, Abu Dhabi, Muscat , Kuwait, Wuppertal, and Konya.
En Chordais has eight albums and participates in other eight cooperating with labels such as Ocora – Radio France, World Village, Kalan Muzik, Music Rough Guides, Accords Croisés and others. Εn Chordais concerts and discography, have been largely publicized, with enthusiastic reviews to musical magazines, on line articles, presentations, references, interviews, TV and Radio emissions (BBC world service, Arte Web, WDR, Radio CANADA, Radio FRANCE, New York Times, Deutschland Radio, Turkish Radio Television, ABC Radio National Australia, Liberation, Kathimerini, TV 5, Al Jazeera, National Greek Television and many others.