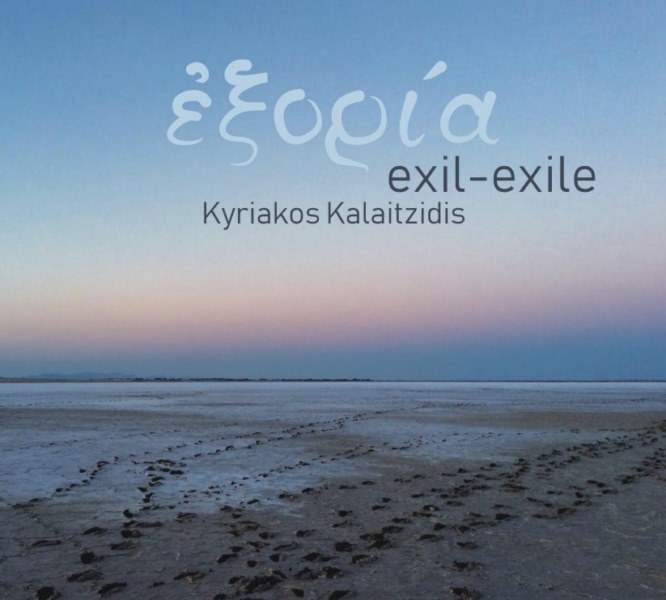 The history of humanity is a history of exiles. For Jews and Christians, the exile from Paradise is the beginning of history. For Muslims, it is the exile from Mecca. For political dissidents throughout the world, it is a miserable refrain, one of one the principle forms of "reeducation", punishment or simply annihilation. Millions of human beings have been led violently, by force or voluntarily into exile for political, religious or national reasons or simply in search of a better life. Exile is a state of the bidy, but also a state of mind. It is inscribed in our DNA, we carry within ourselves the nostalgia for an ideal topos, a utopia, even if our daily lives take the form of "normality". In our days, its real and symbolic aspects are more real than ever.
En Chordais 2005 / Buda Musique, Paris 2019.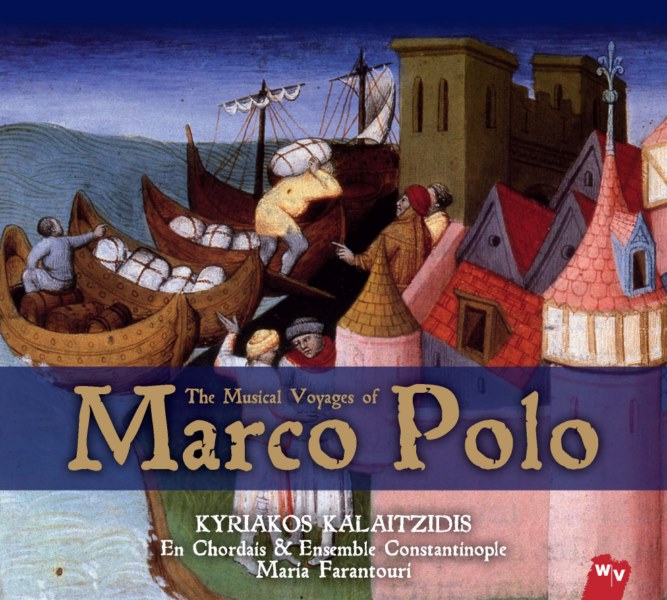 The Musical Voyages of Marco Polo
A virtuoso oud player, artistic director and founder member of "En Chordais" cultural organization and its music ensemble, and a doctor of Byzantine musicology, the ever impressive Kyriakos Kalaitzidis has now gathered together a group of devoted collaborators in order to tell the musical tale of one of the defining periods of human history.
Harmonia Mundi – World Village, Paris 2014.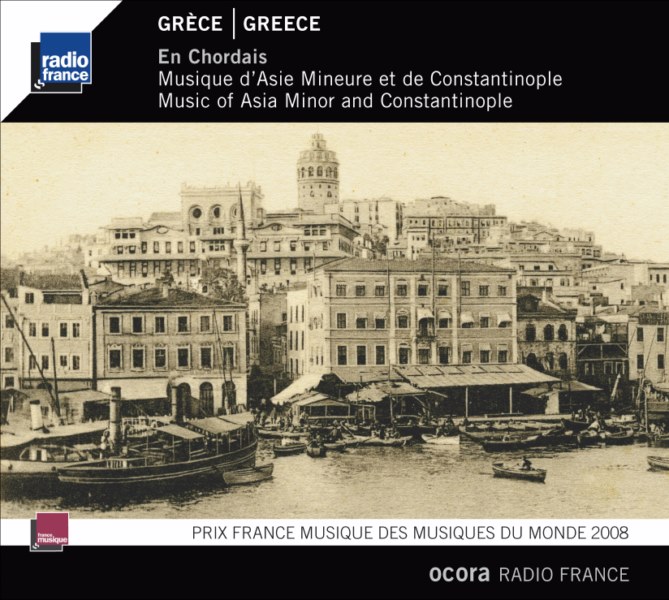 Grèce: Musique d' Asie Mineure et de Constantinople
Songs and tunes from Constantinople, Smyrna and Asia Minor. Live recording in the Theatre de la Ville – Abesse in Paris in the context of the award of "En Chordais" by the French Radio with the "Prix France Music des Musiques du Monde 2008".
Ocora – Radio France, Paris 2010.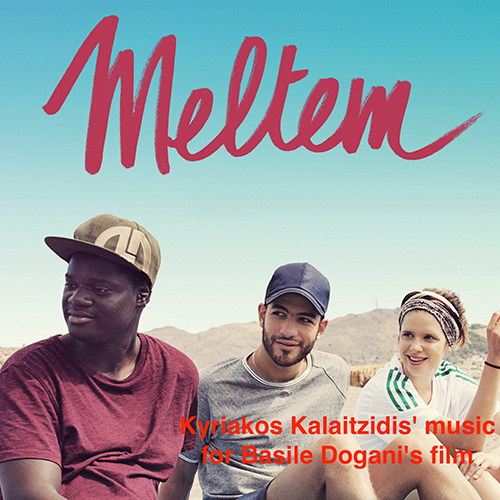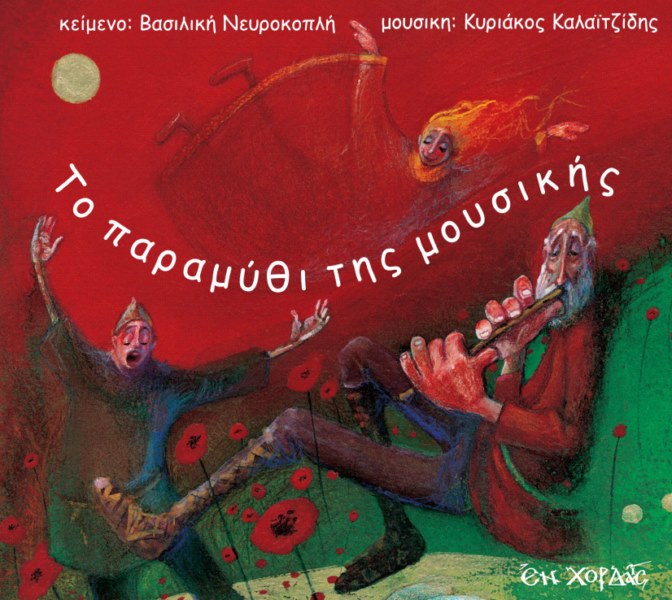 The Fairytele of the Music
Kyriakos Kalaitzidis (music), Vassiliki Nevrokopli (texts).
A tender musical fairytale for children as well as for adults that have kept their childhood alive. The contemporary compositions by Kyriakos Kalaitzides are well assimilated with well known Mediterranean musical pieces as the performance of the 'En Chordais' music ensemble blends with that of the invited musicians: Imane Homsy (Beirut) – qanun, Misirli Ahmet (Istanbul) – darbuka, Lluis Coll (Barcelona) – corneto, Pietro Prosser (Venice) – lute.
En Chordais 2008.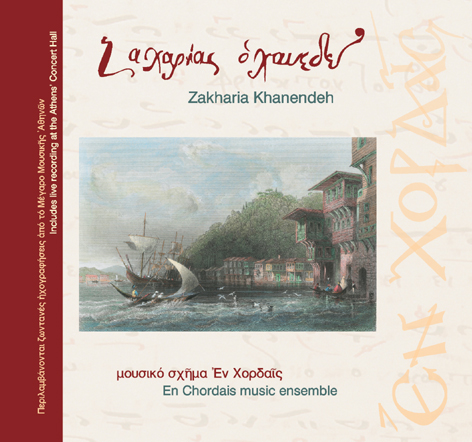 Classical Eastern Music from 18th century Constantinople.
Zakharia Khanendeh, renowned in his day for his rare vocal qualities, was also a composer of merit, whose works illustrate the musical wealth of multicultural Istanbul. Recorded, with the participation of Persian and Turkish soloists, at Thessaloniki, Mondreal, Istanbul and live at Athens Concert Hall. Artistic Direction: K. Kalaitzides, Texts: prof. A. Aggelou, K. Kalaitzides.
En Chordais 2001 / Kalan Muzik, Istanbul 2002.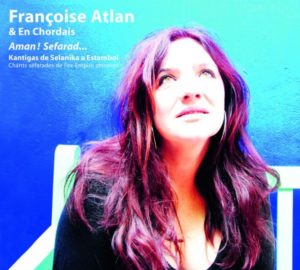 For this new production specifically inspired by Salonika and Istanbul, Françoise Atlan, Kyriakos Kalaïdjidis and the ensemble "En Chordais" have replaced the Sephardi music forms of the various Balkan and Eastern Mediterranean Jewish communities in their historical, geographical and cultural context, highlighting the influences of a non-Jewish musical environment on the Jewish musical heritage and showing us how this unique heritage intertwines with the weft of history and the various paths of exiles taken by these communities. The main genres of the Jewish-Spanish repertoire are featured here: romances (medieval ballads), coplas (religious Judaic songs), kantigas (daily life songs) and piyyutim (plural of piyyut – liturgical poems/songs). Text by Sami Sadak.
Buda Musique, Paris 2015.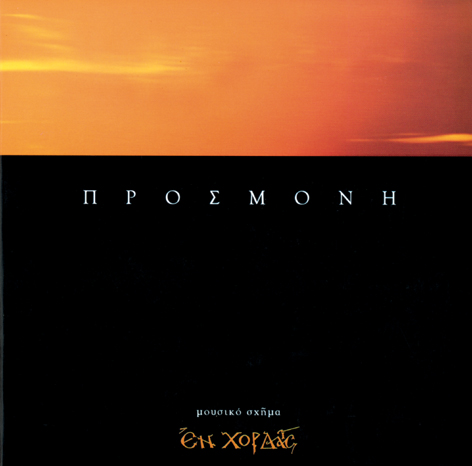 This is the first completed recording of the "En Chordais" ensemble, which received extremely good reviews. Based on St. John's "Apocalypse" ("Revelation"), Byzantine and traditional music, as well as various contemporary musical influences, it consists of seven compositions by Kyriakos Kalaitzides, two musical pieces from the art music heritage of Constantinople, musical colors of Mytiline, the "Kouloustas" by Vassilis Vetsos, as well as an "amanes" sung by Drosos Koutsokostas.
En Chordais 1997.

Songs and melodies from Oinousses island
This is a co-production of "En Chordais" with Oinoussian musicians and singers. It includes songs, which echo the acoustic environment of the beginning of the century on Oinousses, Chios and the nearby shores of Asia Minor. It is an edition of the Oinousian Maritime Museum and it consists of 2 Cds together with a 100 page book that contains texts about the history of the island, its musical tradition, the song lyrics and accompanying texts etc.
En Chordais 1999.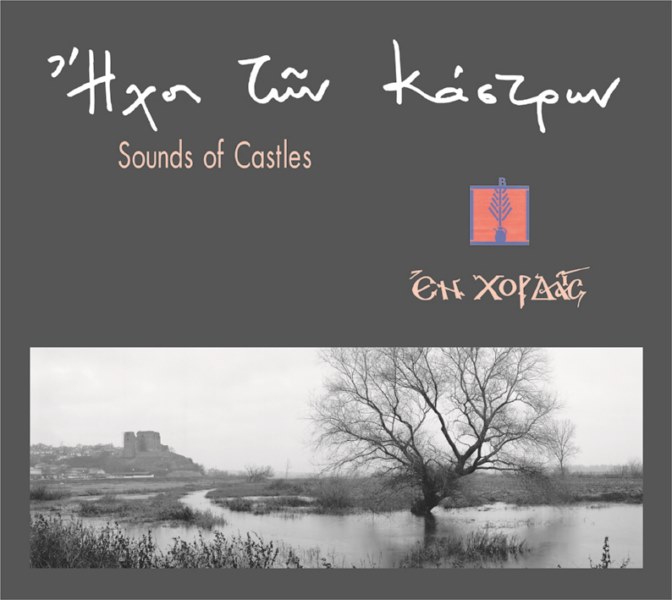 Chronis Aidonidis, Christos Zotos, Yiasemi and Nikos Saragoudas, Achileas Vasiliades, Drosos Koutsokostas, Panagiotis Lalezas and others sing traditional songs for castles.
In co-operation with the Ephorate of Byzantine Antiquities of Thessaloniki.
En Chordais 2003.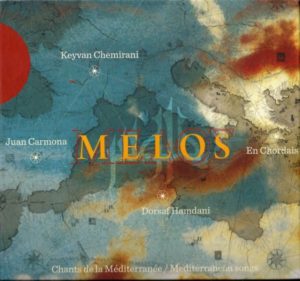 Mediterranean music
Keyvan Chemirani (France / Iran): direction and percussions, Juan Carmona (Spain): guitar, El Kiki (Spain): vocals, Sergio Martinez (Spain): percussions, Dorsaf Hamdani (Tunisia): vocals, Mohammed Rochdi M'farredj (Morocco): qanun, Mohamed Lassoued (Tunisia): violin, Drossos Koutsokostas (Greece): vocals, Kyriakos Kalaitzidis (Greece): oud, Kyriakos Petras (Greece): violin, Periklis Papapetropoulos (Grèce): saz, bulgari.
Accords Croisés, Paris 2012.
Secular Music of Athos Byzantine Music Codes
Unknown traditional songs and compositions of the lords of Fanar as they preserved in manuscripts music codes in the monastic libraries of Mount Athos – Athos. There is a CD embedded in the book of Proceedings of the parallel events of the Exhibition of Treasures of Mount Athos – Athos.
Thessaloniki – Cultural Capital of Europe 1997.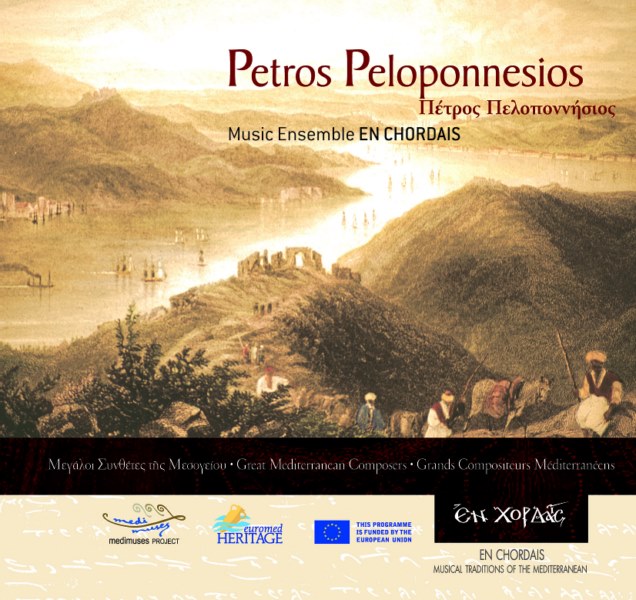 (1740-1778)
Music ensemble "En Chordais"
He is best known in Greece as a composer of ecclesiastical works, including the famous Troparion of Kassiani, chanted on the Tuesday before Easter. On this recording, lesser known lay compositions are included; songs, semais, bestes and taksims. The taksims are particularly interesting, as they are perhaps the oldest fully notated examples available to us. Research and texts Prof. Th. Apostolopoulos and K. Kalaitzides.
En Chordais 2005.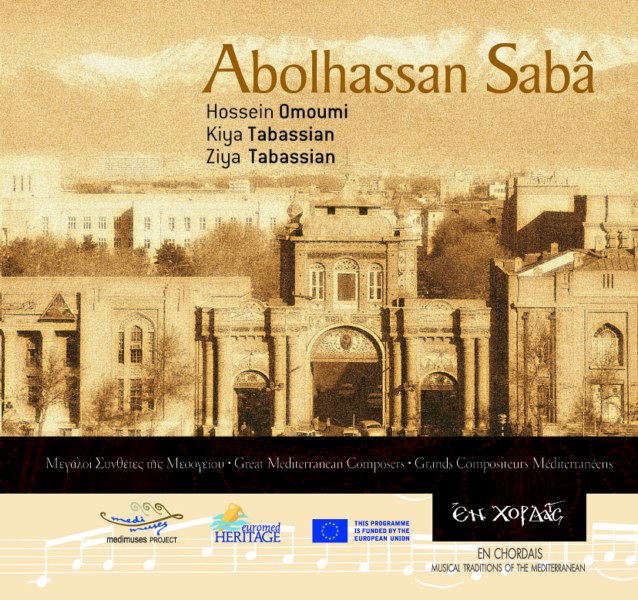 (1902 – 1957)
Hossein Omoumi, Kiya Tabassian, Ziya Tabassian
Three great artists join forces to present the great Persian composer Abolhassan Saba. Both the compositions and the interpretations are of a rare quality and spirituality. Hossein Omoumi possesses an exceptional timbre on the nay and the Tabassian brothers (setar and tombak) contribute to the overall result with their combination of a deep knowledge of Persian art music and their innovative approach. The booklet texts are by the Professor of the University of Esfahan, Sassan Sepanta.
En Chordais 2005.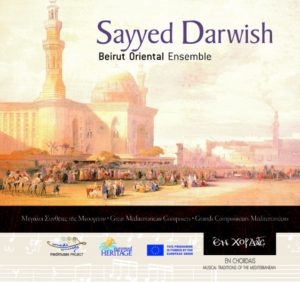 (1892-1923)
Beirut Oriental Ensemble
His compositions are famous all over the Arab world and have been interpreted by the "holy monsters" of Arabic music such as Fairuz, Farid el Atrash, Sabah Fakhri and others. This is the first recording devoted exclusively to the work of Sayyed Darwish. The performances are by Ghada Shbeir, Rima Khcheich and Gilbert Rahbani. The Beirut Oriental Ensemble is led by Charbel Rouhana, the most important Lebanese oud player today. The texts of the booklet are by Dr. Victor Sahab, former director of the Lebanese National Radio.
En Chordais 2005.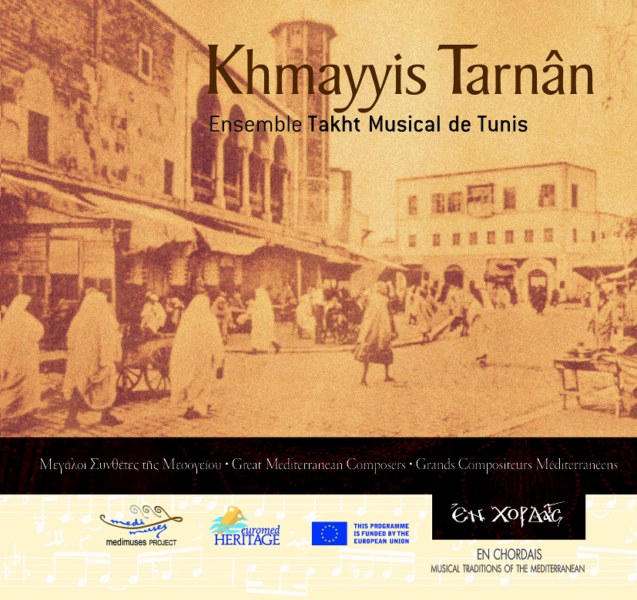 (1894 -1964)
Takht Musical de Tunis
Khmayyis Tarnan is the most popular Tunisian composer. Nonetheless, this is the first time that his compositions are presented on a dedicated CD. The vocal performance is by Hamdani Dorsaf and the musical direction is by Kamel Ferjani. The texts for the booklet are by Mahmoud Guettat, Professor at the Higher Institute for Music in Tunis.
En Chordais 2005.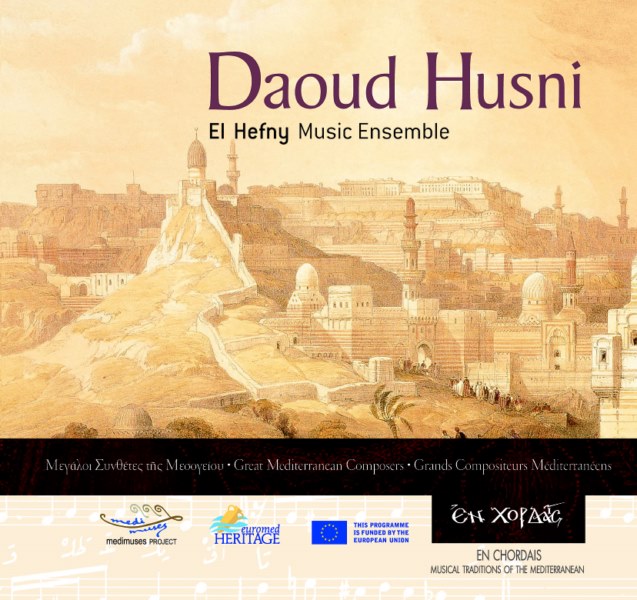 (1870 – 1937)
El Hefni Music Ensemble
At the turn of the 19th century, Arabic music was flourishing in Egypt. Daoud Husni is one of the composers who contributed to this golden age with a catalogue of compositions that is impressive both in size and quality. His songs were performed and recorded by mythical figures such as Oum Koulthoum and Mohamad Qasabji, and works of his were presented at the famous Cairo Conference on Arabic Music in 1932. The compositions are performed by the El Hefny Ensemble under the direction of Dr. Ratiba el Hefny. The musicological coordination is by Dr. Kifah Fakhouri, former president of the International Music Council (UNESCO) and former director of the National Music Conservatory of Amman, Jordan.
En Chordais 2005.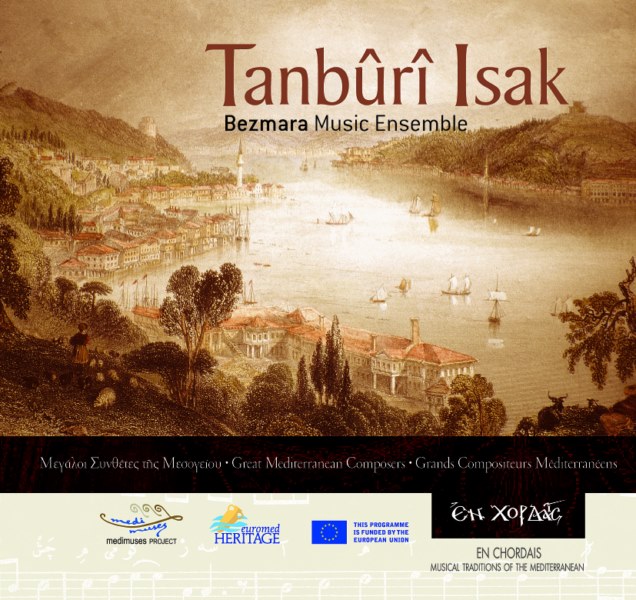 (18th century )
Bezmara Ensemble
Tanbûrî Isak was a Jewish composer who lived in the cosmopolitan metropolis of Istanbul. He is considered to be one of the main forces of renewal and innovation in the Ottoman music of his time. The Bezmara Ensemble from Istanbul interprets his works on original instruments under the direction of Fikret Karakaya. The booklet texts were written by the authoritative scholar of the field, Dr. Walter Feldman.
En Chordais 2005.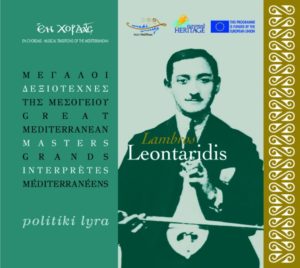 (1898-1965), politiki lyra
Coordination – texts: Elias Barounis, Sokratis Sinopoulos
He is known to us mainly through the 78 rpm recordings of the great rembetiko singer Rosa Eskenazi on which he performs in his unique style. Starting from these sources, Ilias Barounis discovered rare recordings of this great Greek musician and gathered information about his life. The booklet also includes a text by Socrates Sinopoulos on the significance of this little-known master.
En Chordais 2005.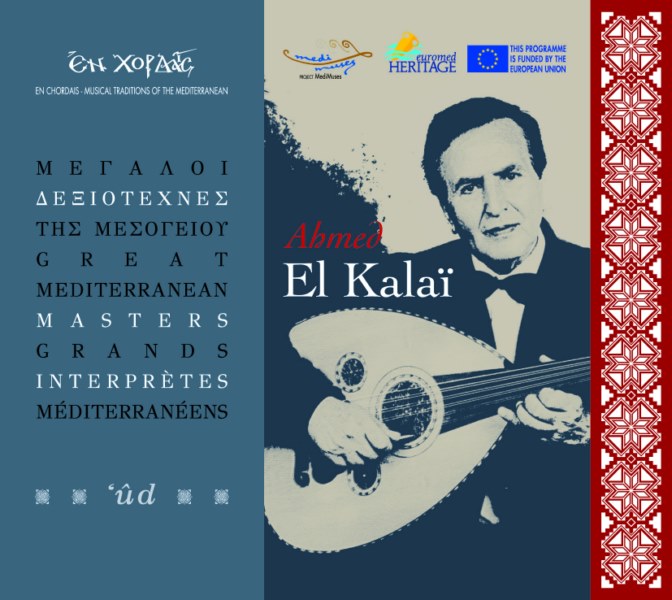 (1936-2008), oud
Coordination – texts: Mahmoud Guettat, Kamel Ferjani
Ηe is the man who changed the way the oud is played in Tunisia, revealing its potential as a solo instrument. He created a style of
playing that explored the affinities between Arab music and flamenco guitar playing, opening up the road for younger musicians such as Anouar Brahem, Kamel Ferjani and others.
En Chordais 2005.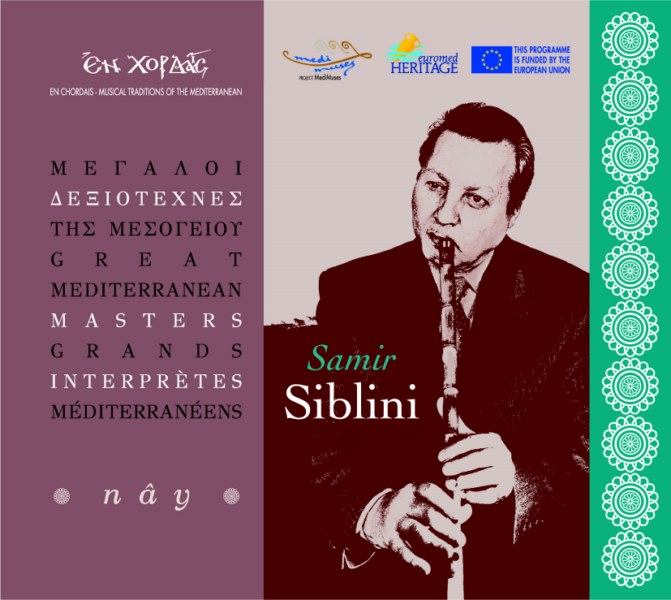 (1946-2017), nay
Coordination – texts: Imane Homsy
He was one of the most personal approaches to the instrument, a factor that has contributed to his extraordinary reputation throughout the Arab world. He was performed with some of the best-known artists such as Fairuz, Wadi El Safi, Mohamed Abdel Wahab, Abel Halim Hafez. Booklet texts by Imane Homsy.
En Chordais 2005.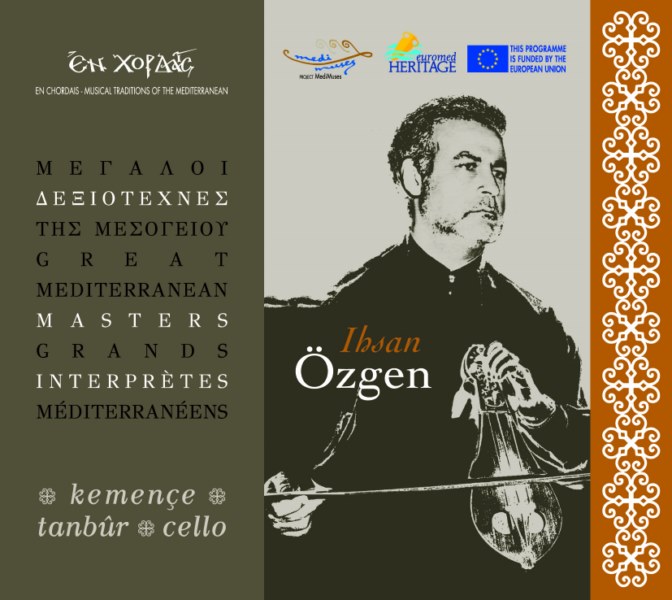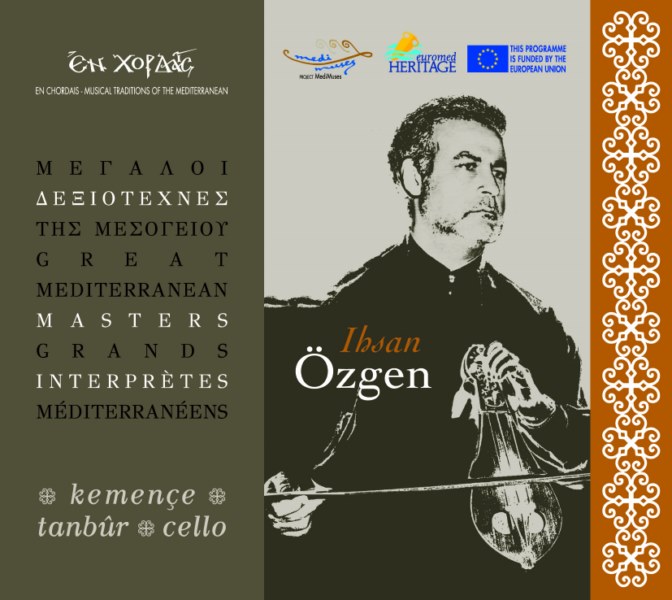 (Coordination – texts: Yelda Özgen
He was in the forefront of the movement to bring art music of the Ottoman period to a new audience with the Bosphorus Ensemble. Previously unreleased materials as well as a selection of his most significant recordings make up a unique portrait of one of the most open-minded and significant Turkish masters of the 20th century.
En Chordais 2005.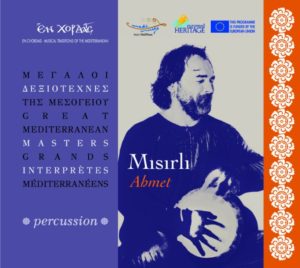 darabuka
Coordination – texts: Vagelis Karipis, Petros Kourtis
He is considered to be the greatest performer on the instrument not only in Turkey but throughout the Mediterranean. He has developed a highly personal approach that combines virtuosity with a musical imagination that leads to the unfolding of several melodic and rhythmic levels at once. This is his first solo CD.
En Chordais 2005.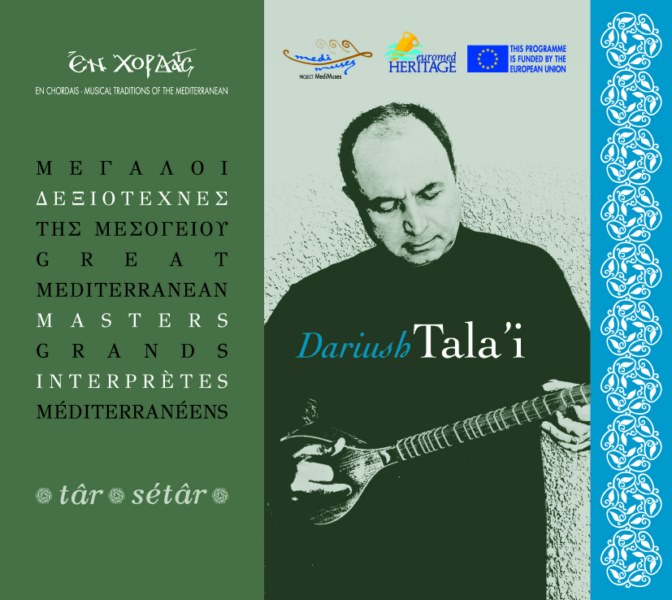 tar & setar
Coordination – texts: Christos Carras.
He became known through his exceptional recordings of the repertoire of Persian art music (the Radif) as well as his outstanding concert performances that combine perfect knowledge and respect for tradition with a highly personal approach. He is considered to be one of the foremost interpreters of the Persian classical tradition today and professor at the Music Department of the University of Tehran.
En Chordais 2005.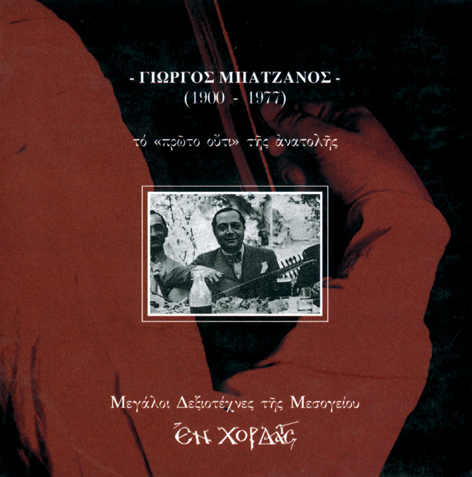 oud
Coordination – texts: Kyriakos Kalaitzides
A Greek from Istanbul, he was one of the great innovators on the instrument during the 20th century. A virtuoso of the highest order and gifted with a fertile musical imagination, his solo taksims are unmistakable.
En Chordais 2005.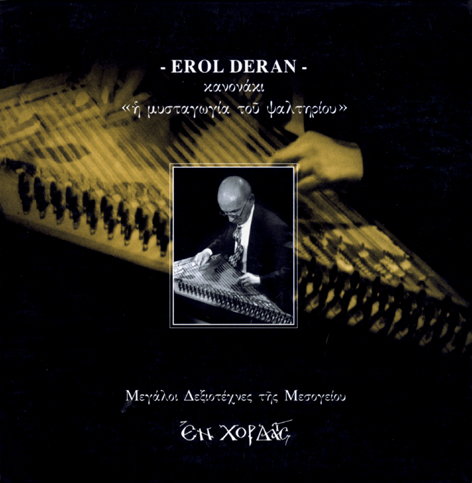 qanun
Coordination – texts: Kyriakos Kalaitzides, Vassilis Vetsos
He is possibly the greatest living exponent of classical Turkish music on the qanun. His interpretations and improvisations possess both a remarkable clarity and an almost abstract quality that rewards careful and concentrated listening. This is the only solo CD of this great master.
En Chordais 2005.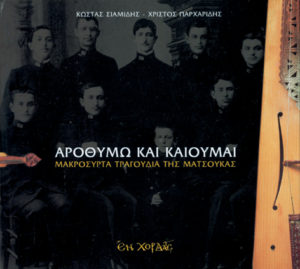 Long song from Matsouka of Pontos
The ancient muse of Pontus finds its best expression in the singing of Christos Parcharides (resident of Melbourne) and in the lyre of Kostas Siamedes.
En Chordais 1999.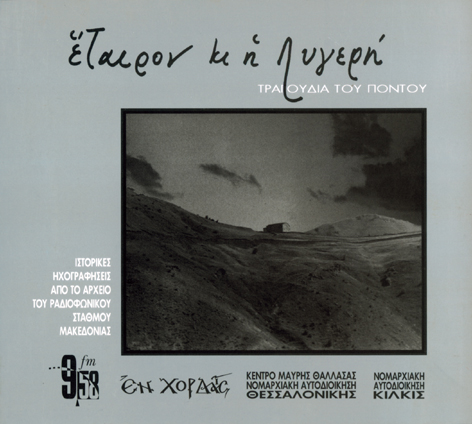 Songs from Pontos
Historical recordings from the National Radio Station of Macedonia / Thessaloniki. It is a co-production with «9.58 fm» of the National Radio Station of Macedonia of "EPT3" (National Greek Radio Television), the Black Sea Center of the Municipality of Thessaloniki and the Municipality of Kilkis.
En Chordais 2000.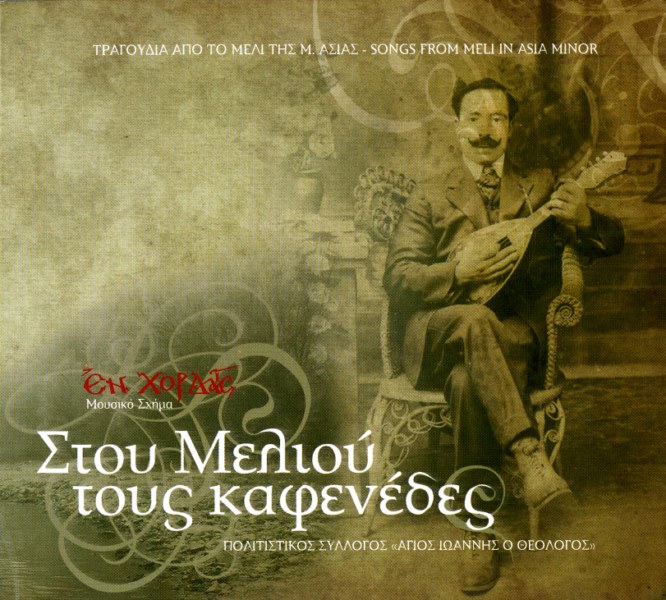 Stou Meliou tous Kafenedes
Songs and melodies from the cycle of time, the cycle of life and of celebration. A recording of the rich tradition of Meli in Erythraia – Asia Minor.
Cultural Association "Sent John Theologos", Megara – Athens 2007.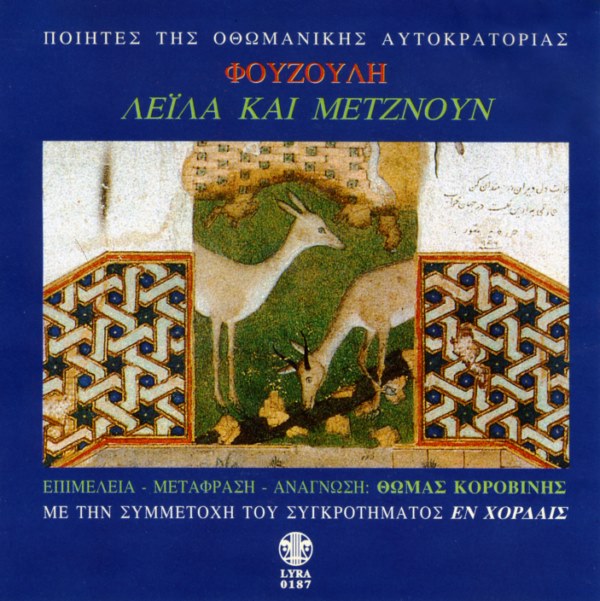 Musical accompaniment with compositions of art music of the East for the famous love epic by the 16th century Iraqi poet Fuzuli, translated and recited by Thomas Korovinis.
Lyra Records, Athens 1996.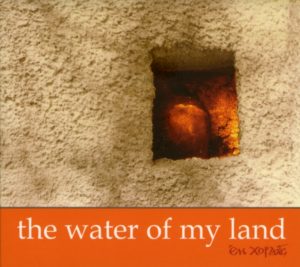 Songs and tunes of refugees and immigrants living in Greece.
European Project Extra! – En Chordais 2007.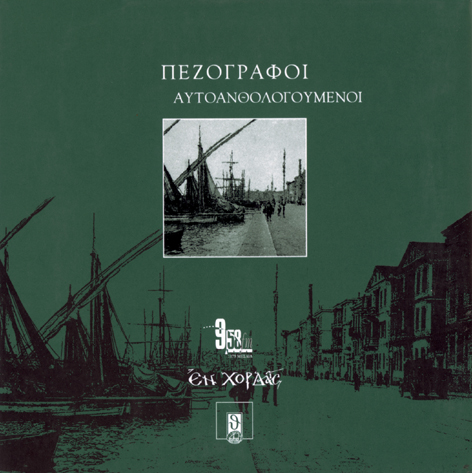 AN ANTHOLOGY OF NOVELISTS OF THESSALONIKI
After the poets, novelists of Thessaloniki choose and recite extracts of their work. It is a co-production with «9.58 fm» of the National Radio Station of Macedonia of "EPT3" (National Greek Radio Television) and the O.C.C.E. Thessaloniki '97.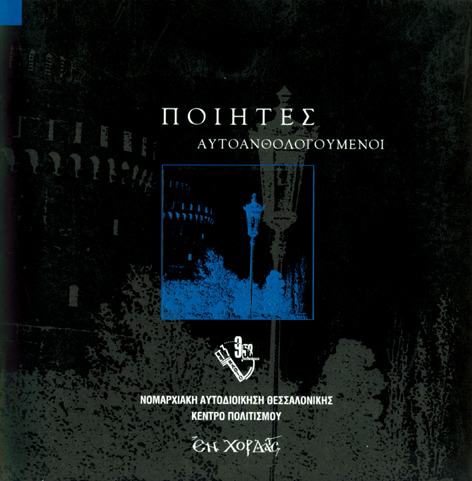 AN ANTHOLOGY OF POETS OF THESSALONIKI
Twenty-nine poets, men and women, of Thessaloniki present part of their work by choosing and reciting it themselves. It is a co-production with «9.58 fm» of the National Radio Station of Macedonia of "EPT3" (National Greek Radio Television) and the Municipality of Thessaloniki.